If you know me in real life, there is a pretty darn good chance you have seen at least one of my girls being worn in one kind of carrier or another at some point, some time . . .
Because D was quite the high-needs babe, babywearing moved quickly from novelty to way of life for me. You'd think I would have more babywearing action shots, but as we all know, Mama is almost always the one behind the camera.
If you look back through the babywearing category, you'll find occasional posed shots like this one of our first ever "real sling" (a Lucky Baby) and a very rare real action shot like this one of D in a mama-friend-made ring sling. Crazily enough, I had NO action shots ** of the carrier I have used and abused and relied on the most for almost three years now - our trusty Ergo.
Husband was kind of enough to humor me by taking some real life action shots of a very typical scene around our house - clingy, teething AJ channeling a koala cub and hanging out with mama while she does the dishes: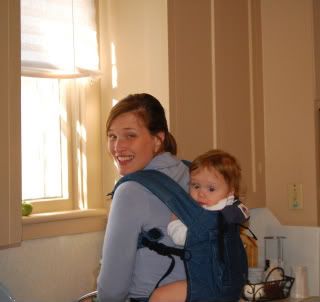 Yep! Happy mama, happy baby toddler!
I've so been enjoying reading and seeing all the babywearing celebrations this week! If you haven't already, head over to see Steph at Adventures in Babywearing to join in the celebration and enter for a chance to win one of two lovely slings courtesy of Nonny and Boo!
Still more babywearing talk to come!
** PS - Shortly after I published this post, my dear and wonderful and thoughtful friend Keara contacted me to let me know that she, in fact, had an action shot of D in the Ergo! This is clearly not my most glamorous, camera-ready moment, but we were in the midst of power shopping the outlets. D is probably nearing two in this picture and you can see she is riding along quite comfortably!