I love breastmilk. I really, really do, and I am not a bit ashamed to say it.
Breastmilk is truly amazing stuff, you know. Not only does it have the ability to grow, nourish, and (quite often) fatten up our wee ones, it can also clear up pinkeye, heal the skin, and treat ear infections. That's pretty crazy cool, right?
It is with complete and utter humble sincerity that I say that I am so grateful for my own breastmilk. It's warm and sweet (and yes, I've tasted it*) and it's responsible for helping D to achieve and maintain her "Jabba the Baby" status.
(here she is at four months with legs so chunky we had to literally pry her out of her Bumbo seat)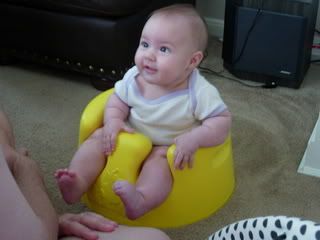 My breastmilk took D all the way through her second year, ensuring that even though she couldn't drink cow's milk like many of her peers, she was getting plenty of healthy fat, protein, and vitamins from mama milk right up to the day she self-weaned at just past two.
A few weeks ago, I was reminded again of my gratitude for breastmilk when AJ was sick, sick, sick with a rotten and mean fever virus, and we couldn't get her to eat a thing for days and days. That's a very unsettling feeling - your child not eating. The only thing she wanted was mama milk and it was a great comfort to my mama heart to know it was keeping her nourished and hydrated.
Sad, sick AJ (yes, I'm a mean mom who takes pictures of my kids when they are sick . . . I can't resist):
My happy, healthy nursling:
It occurred to me as I looked through both my handwritten and online thoughts on gratitude that evidently, I think gratitude is quite the Stern Librarian . . . hair pulled back in a severe bun, speaking in hushed tones and using solemn, measured words to convey deep and reverent thankfulness. Sometimes that's appropriate, but other times, gratitude is a Perky Cheerleader . . . an absolute force of flushed cheeks and arms in the air with poms a-blazin', bouncing and chanting in victory.
So today, let's hear it!
I LOVE BREASTMILK, YES I DO! I LOVE BREASTMILK, HOW 'BOUT YOU?!
(*My husband is completely skeeved out by the thought of tasting human milk and has no qualms in sharing his queasiness with me. I find this not just a little hurtful and completely puzzling considering he has no problems at all with drinking cow milk. Have you been up close to a cow lately? They are kind and gentle but also dirty and stinky. How drinking milk from a cow is less icky than drinking milk from a mama remains a mystery to me . . .)